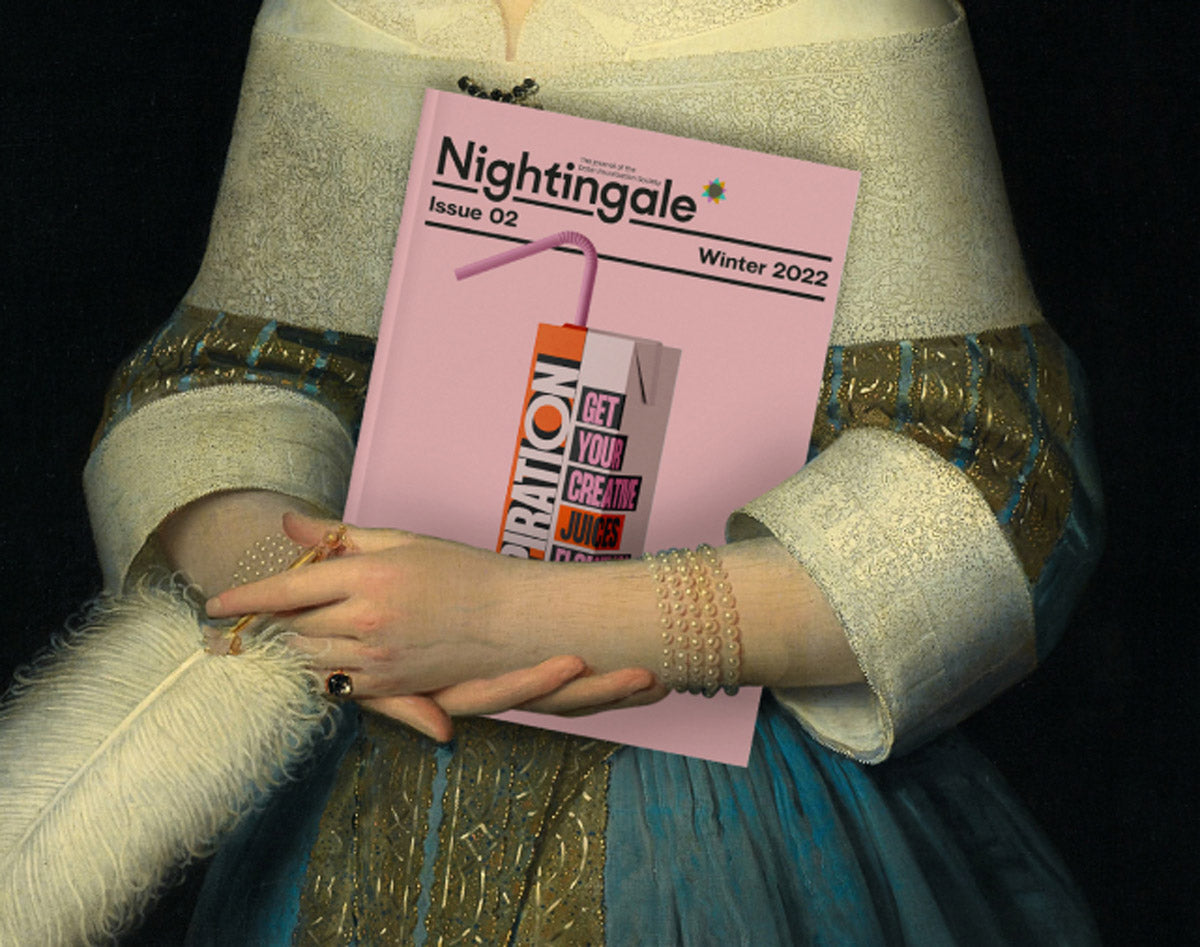 Frequently Asked Questions
Have a question? Check out our FAQs below or email us if you still need help.
Collapsible content
How do I know if I am currently subscribed to Issue 3?

Since we are changing our subscription platform, we will be emailing all current and previous subscribers to confirm your subscription status. (Watch your inbox for an email from nightingale@datavisualizationsociety.org!)

Everyone who has already subscribed to get Issues 3 and/or 4 will be sent an email to create an account in our new Shopify system. We will include a discount code to ensure you get what you have already paid for. 

Everyone who previously subscribed to Issues 1 and 2 will be sent information on how to renew via our new system. 

If you have any questions, email our team and we'll do our best to assist!
Can I order in bulk for my organization, class, library, etc.? 

Yes! For a price quote for orders of six or more copies, please email us.
How do I change my shipping or billing information?

Subscribers can login to your customer account and update your shipping address, billing information, and subscription status at any time. You will also receive an email before each issue ships to prompt you to check your address before our processing deadline.

Unfortunately, because orders are fulfilled almost immediately, there is no way to change your shipping address once an order has been processed. Please be sure to check your address before purchasing or before the processing deadline for subscribers.
How quickly will the magazine ship? How long will it take to be delivered?

This is one of the changes we are most excited about! With the old system used for Issues 1 and 2, we only shipped magazines once per month—now, orders will be processed almost immediately and shipped within four days! Shipping timelines from the warehouse to your mailbox vary by your location. Delivery to most of the U.S. should take less than one week. To check the status of your order, login to your customer account.
Why did the price increase with Issue 3?

The prices that you see for Issue 3 reflect the true cost of producing a high-quality, graphics-driven magazine. As a non-profit organization, the Data Visualization Society (DVS) seeks to set prices at a level that covers its costs.

When Nightingale Magazine launched, the content was a mix of old (previously published) and new material. Since then, Nightingale has dedicated itself to creating more high-quality original content, and this brings increased costs. The costs of international shipping have also proven significant, particularly as supply chain issues drove up costs dramatically in 2022, despite the DVS's commitment to streamlining operations. Furthermore, we encountered many unexpected costs associated with launching a magazine (e.g., establishing a new subscription platform that provides a simpler and more transparent customer experience), and we've had to adjust the price accordingly to account for that overhead. 

Moving forward, we are dedicated to streamlining our operations to keep costs as low as possible while continuing to deliver the high-quality content our readers have come to expect. Certainly the excitement from our community feels like a validation of this push towards the highest levels of quality. We would love to feature select advertisements in the future to offset these costs, and we will be actively seeking sales opportunities from agencies, start-ups, or larger businesses to secure sponsorships for Issue 4. Although we know that readers appreciate an ad-free experience, it comes at a premium. 
Why do some countries have to pay shipping fees?

After exploring many, many options, our team landed on distributing Nightingale Magazine from both North America and Poland. This helps us to optimize shipping prices for the thousands of subscribers in dozens of countries around the world that we have shipped to in the past. 

Thanks to this optimization, we are able to include free shipping in the subscription price for the majority of our customers. But certain countries have such high shipping costs that we would have had to significantly raise the price for all subscribers in order to cover the high shipping costs of just a few. As a result, some countries do receive a shipping surcharge. 

It's part of the Nightingale mission (and the DVS mission, as a whole) to reach dataviz enthusiasts and practitioners around the globe. This is why we make international shipping available, even if it comes at a price premium for certain locations.

We also offer the digital version of Nightingale Magazine to all dues-paying DVS members in the DVS Member Portal.
I'm in EU and I was contacted about paying VAT - what's up with that?

As we began to ship issue 3, we realized that shipping from the US may cause VAT issues with certain countries in the EU. Unfortunately some of our customers and supporters had to pay an additional tax to get their magazine, but it was not enforced the same across all EU countries. (Weird, right?)

As a result, we are doing a few things:

We will print and ship from the US AND EU for issue 4, so this will not happen in the future.
We will offer a standardized discount/rebate for those in countries who paid such a tax. (We are working out the details now, no need to email us.)

We deeply apologize for any extra fees and headaches resulting from dealing with the postal service.
My magazine never arrived, or it arrived damaged. What can I do?

First, login to your customer account to ensure that your order shipped. Unfortunately, as a small, volunteer-run non-profit, we are not able to keep much extra inventory on hand and so are generally not able to send replacement copies. We will ship your magazine to the address you provide at the time of payment (or at our processing deadline, for subscribers). We have upgraded our fulfillment systems so that magazines should arrive in good condition. However, we are not responsible for incorrect addresses, lost or delayed mail, or damage during shipping. Thank you for understanding.
How can I read the digital PDF version of the magazine?

Digital magazine access is available to dues-paying members of the Data Visualization Society. Login to the the DVS Member Portal to read it.
How is Nightingale growing?

In the months leading up to Issue 3, Nightingale management worked hard to reevaluate every aspect of our production process—from printing and customer tracking to packaging and shipping—in order to cut costs. As part of that effort, we switched printers and fulfillment partners, which will help manage our costs today and going forward. However, we're also more aware of unexpected costs that can come up, including, for instance, the increasing prices for materials and shipping that are impacted by markets beyond our control.

Nightingale is not a profit-driven publication. We operate under the charter of the Data Visualization Society, a nonprofit organization. This means we need to be responsible in covering costs and be mindful of our DVS affiliation and mission. We are extremely grateful to the staff and contributors who volunteer hours of their time to make this magazine possible.